Plein Air History
Introduction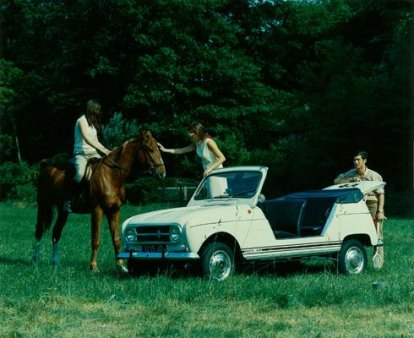 The Plein Air was introduced in the spring of 1968. Plein Airs were converted by Renault group company Sinpar S.A. from regular 4 speed R1123's produced by Renault. A R1123 selected for conversion entered Sinpar's premises as a complete R4 Berline to undergo a complete make-over and leave without doors and roof to be delivered to clients who had ordered their Plein Air from one of Renault's dealers worl-wide. Plein Airs were actually sold and delivered into France, Canada, United States, Mexico, Finland, Germany, UK and the Netherlands. In 1968 approx. 20 Plein Airs were exported to Canada to be used on the site of the 1968 Terre des Hommes World Exhibition in Montreal. Approximately 500 Plein Airs were produced by Sinpar until 1971, when it was succeeded by the R4 ACL Rodeo. After 1971 Renault continued to offer Plein Air conversion kits for self-made plein airs, but little is known about their number.
Each Sinpar Plein Air was given a unique Sinpar production number, put on a round Sinpar identification plate fixed next to the Renault oval R1123 plate and the diamond chassis number plate under the bonnet. A Plein Air is only an original Sinpar Plein Air if fitted with the round Sinpar plate. The highest Sinpar production number known today and registered in the Plein Air Register is 563, the lowest 133. The Plein Air records of Sinpar, if they ever existed, have gone lost which makes verification of information and production numbers not easy.
The highest Sinpar number: 563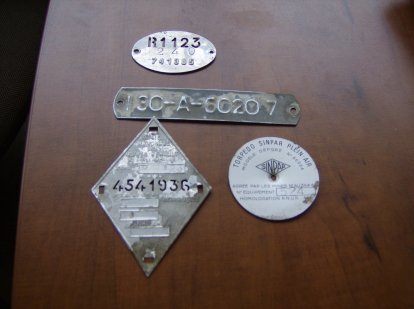 Until recently, the attached photo confirmed beyond doubt that at least 524 R1123's were converted to Plein-Airs. This concerned a 240 North America version of the R1123. Regretably, it is not known if the Plein-Air bearing this number is still around today. A publication of March 2008 in German car magazine 'OldtimerMarkt' suggested that 529 was the highest Sinpar number ever, but this has never been verified. But a new champion was recently discovered in the centre (18) of France: Sinpar number 563, and the car attached to it, a 100 French version registered in 1969, is alive and kicking and registered in this site's Plein-Air Register as lucky number 13. Who bids more?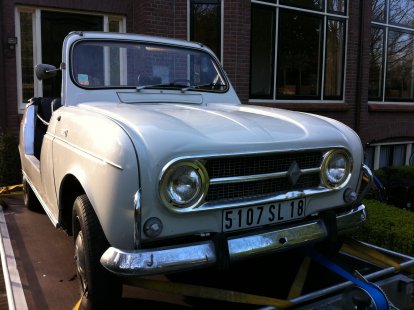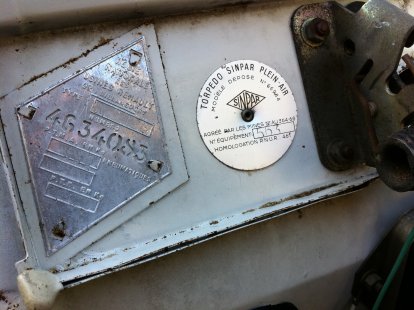 Plein-Air Beach Car Competition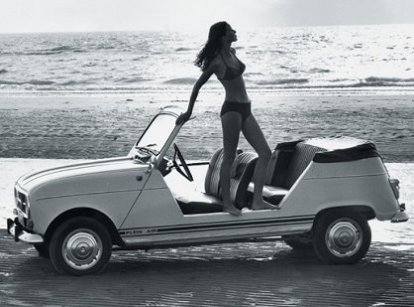 With a production of not more than some 500 cars, the Plein-Air is generally not considered a commercial success. In 1968 it was considered a beach car, a free time toy for rich kids rather than an all day multi purpose vehicle like its direct competitor the Citroën Mehari, launched that same year. The famous press photo of a Plein-Air on the beach with an attractive young lady in it speaks for itself. And compared to the Mehari, the Plein-Air was relatively high priced. This very much explains Renault's decision to discontinue production by 1971 and replace the Plein-Air by the Rodeo 4.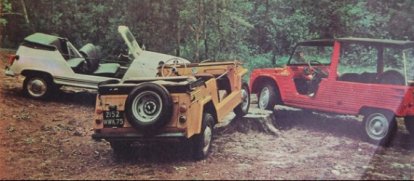 As a beach car, the Plein-Air had to compete with not only the Mehari, but also with cars like the DAF 44 Kini, VW Beetle, the Mini based Moke and the Fiat 500 and 600 series Ghia Jolly, converted from the regular Fiat 500 by Italian Carrozzeria Ghia. Ghia had previously done similar conversions of the Renault 4cv. A publication in August 1969 summer issue of French automobile weekly l'Autojournal (see this site under tab A,N&I for a link to the article) suggests that next to the Mehari, the Fiat 600 Jungla built by Savio in 3,200 fold was a serious Plein-Air competitor.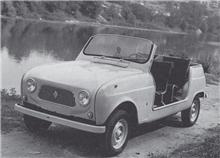 Rumour has that Ghia also did a Jolly-conversion of an early Renault 4L, but apart from a picture found on the internet, no information is currently available.
The small production number and the beach car character of the Plein-Air (which regrettably many people took seriously by taking their Plein-Air to salt water beaches which slowly destroyed the car within a couple of years) are important factors for its current rarity and relative high value when compared to other R4's. Prices have in the mean time reached the EUR 20,000 level (for mint condition) and are still rising, although other less rare convertibles and beach cars like the FIAT 500 Jolly are still far more expensive.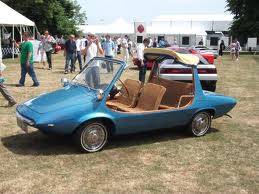 Plein-Air Beach Car Competitors.
The article in this tab can be downloaded and is pdf copy of a publication of a road and beach test of a number of beach cars, including the pelin air, in French Magazine L'Automobile, issue 267 July-August 1968