Articles, News & Information
What's new?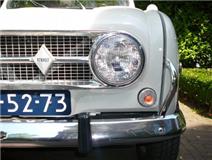 The latest addition to this tab is:
01/02/2013 Link to MyCarQuest.com featuring Renault 4 Torpedo Sinpar Plein-Air
29/01/2013 Article in French 4L Magazine, no.29, about the restoration of Plein Air no. 232
23/01/2013 Pictures and article from 1968 Renault Magazine, no.67: 'Vedettes en Plein Air'
23/01/2013 Picture of the original Sinpar Torpedo Prototype on show on the 1968 Salon de Paris
04/07/2012 Article in Canadian Le Journal de l' Auto of May 2004
04/07/2012 You Tube movie
04/07/2012 You Tube movie featuring a 'flock' of 1968 plein airs
09/02/2012 You Tube movie featuring Saint Nicolas in a Plein Air, December 1968
10/11/2011 Article in French 4L Magazine featuring Le Star 'Plein Air' no. 254
05/10/2011 Plein Air 1:8 scale model for sale in Renault Boutique
29/09/2011 Press photo 'L'Atelier Renault prolonge l'ete'
08/06/2011 Copy of road/ beach test in French magazine L'Automobile 267, July/August 1968
08/06/2011 On-line publication of 18 pictures of Germany's most famous plein air
08/06/2011 50th anniversary You tube movie, featuring Sinpar no. 509
31/05/2011 Two pictures from the collection of the French Sinpar Association
20/05/2011 50th anniversary You Tube video, featuring Sinpar no. 434 (again)
19/05/2011 Press photo from a 1972 German Belinda Stockings ad campaign featuring a plein air
19/05/2011 Article of unknown source about the history of the Plein Air
12/05/2011 You tube movie featuring Sinpar no. 434
09/03/2011 Article in Japanese Hobidas Magazine Tipo featuring Sinpar no. 350
18/01/2011 Article in Japanese R4 enthusiast club magazine featuring a Japanese Plein Air
10/01/2011 A link to a web page dedicated to the 50th anniversary of the R4, including a Renault H&C press kit
28/12/2010 Pdf copy of Plein Air specific pages of Manual PR 808, 6th edition
17/12/2010 Article German online news service News.de
15/12/2010 Announcement in online Autojournal of 6 Dec. 2010 of Salon Retromobile 2011 featuring Plein Air no. 509
22/11/2010 Publication of 'Generations 4L', a French picture book to celebrate R4's 50th birthday
22/11/2010 Link to and pdf copy of the 14 August 1969 issue of l'Autojournal: road test of Plein-Air, Mehari and Fiat Jungla
12/11/2010 Picture of a 1968 promotional postcard
27/10/2010 Article in German Magazine Oldtimer Markt featuring Sinpar no. 529 NOW IN COLOR
27/10/2010 Publication of a French picture book featuring Plein Air Sinpar no. 509
27/10/2010 Announcement of the 3rd 4L International Meeting at Thenay (41), France to take place on 15, 16 & 17 July 2011 to celebrate the 50th birthday of the Renault 4L
25/10/2010 Picture of the Montreal 'Floralies' site, taken in 1980 featuring a Plein Air
22/09/2010 Picture of the Terre des Hommes Plein Air owned by the City of Montreal
06/09/2010 You tube movie featuring Jane Birkin driving a Plein-Air in Paris
Plein Air on MyCarQuest.com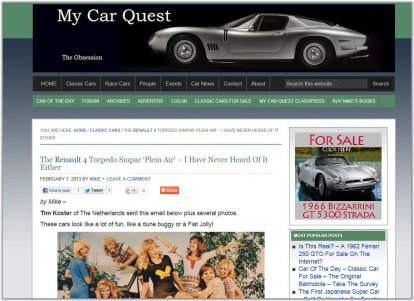 Mike Gulett's daily post MyCarQuest.com about all sorts of super cars one would like to own, today, Friday 1 Feb. 2013, features the Renault 4 Torpedo Sinpar Plein-Air! Check out Mycarquest.com
Mike also publishes e-books and paper books on cars on Amazon.com
Article in French 4L Magazine no. 29 about Sinpar no. 232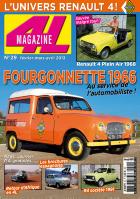 An interesting article about the restoration of Sinpar Plein Air no. 232, registered in this site's Plein Air Register as # 41!
Also see http://www.4lmag.fr/2013/01/r4-plein-air-1968-la-rescapee/
Vedettes en Plein Air 1968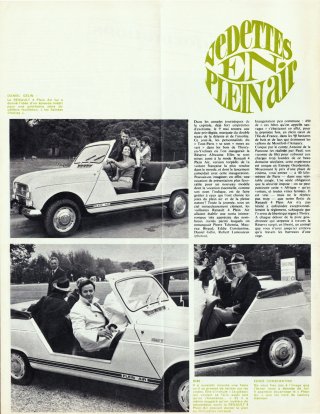 Our friend Hanz sends us these yet unknown Plein Air pictures taken from Renault Magazine 1968, no. 67. The pictures feature famous French 'vedettes' like Eddie Constantine, Daniel Gelin and Robert Lamoureux in new Plein Airs! Pictures are taken at the 'Reserve Africaine' in Thoiry (78) France, which had its public opening in 1968.
Sinpar 4 door convertible prototype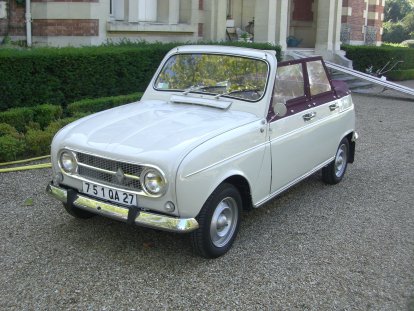 This is a picture of the Sinpar 4 door convertible prototype as presented on the 1968 Salon de Paris. The picture shows the same car 45 years later after a full restoration. The car is owned by the DeMeester family, who in the past were in charge of Sinpar.
The second picture shows the car at Salon de Paris in 1968.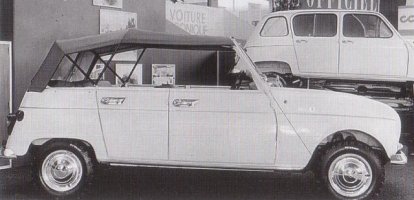 Article in Canadian Le Journal de l' Auto, May 2004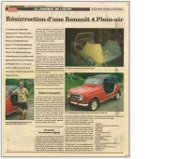 Article in Canadian Le Jopurnal del' Auto of May 2004 about the restoration of Plein Air no. 426
1968 plein air promotional movie on You Tube
1968 plein air promotional movie on You Tube
Courtesy of Boerammetje, the 'Remarkable'