Plein Air Register
How to register your Plein Air?

This register contains information about surviving Renaults 4 Torpedo Sinpar 'Plein-Air'. Registration of a Plein Air will take place at the initiative of the current owner or at the initiative of one of the Plein Air Register Scouts, trusted Plein Air enthousiasts who have spotted a Plein Air and have verified its existence and originality.
To register your Renault 4 Plein-Air, just send a message to register@renault4pleinair.com with details of your car such as Sinpar number (see round Sinpar ID plate under the bonnet), production and chassis numbers (oval and diamond shape ID plates), date of first registration, current registration, history of the car (to the extent you know it) and other details such as left or right hand drive, specific features (4x4), color, condition, etc. Please also provide contact details. We will not put your contact details online unless you explicitly authorize us to do so. Pictures of your car may be added to your e-mail. We will put one picture online as part of the register.
NUMBER OF PLEIN-AIRS IN REGISTER: 44
Sinpar nos.:133, 142, 149, 166, 169, 173, 182, 220, 232, 251, 254, 260, 261, 311, 313, 329, 330, 331, 338, 350, 355, 359, 364, 381, 385, 398, 407, 426, 434, 435, 442, 464, 470, 472, 475, 480, 489, 490, 495, 497, 509, 520, 533, 563,
Sinpar Plein-Air no. 434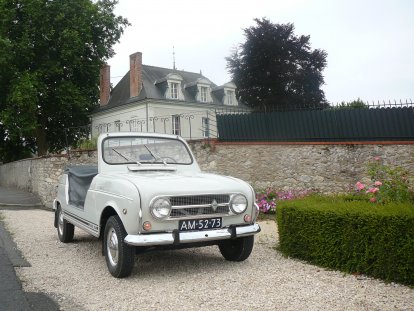 | | |
| --- | --- |
| Sinpar no. | 434 |
| Renault production no. | 690863 |
| Chassis no. | R1123 4489518 |
| Renault version no. | 240 (North America) |
| Date of first registration | 30 June 1972 |
| Country of first registration | Canada |
| Color | White 322 |
| Current registration number | AM-52-73 |
| Country of current registration | Netherlands |
| Special features/equipment | sealed beams, all red tail lights, heavy duty heating |
| Condition | Original, new paint, new top |
| Specific information | Presumably one of the 20 Terre des Hommes plein airs used unregistered at the Montreal World Exhibition site in 1968. This would explain the first registration in 1972. |
| Registration # in Renault 4 Plein Air Register | 001 |
| Date of Registration in Renault 4 Plein Air Register | 21 July 2010 |
| Owner | Tim Koster |
| Contact | info@renault4pleinair.com |
Sinpar Plein-Air no. 254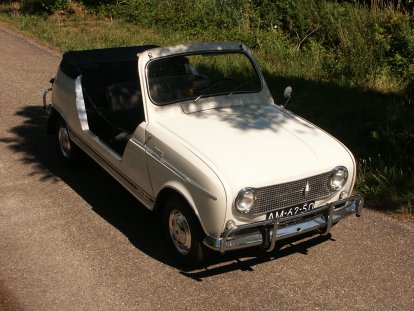 | | |
| --- | --- |
| Sinpar no. | 254 |
| Renault production no. | 587535 |
| Chassis no. | R1123 4315215 |
| Renault version no. | 100 (France) |
| Date of first registration | 12 July 1968 |
| Country of first registration | France |
| Color | White 322 |
| Current registration number | AM-62-50 |
| Country of current registration | Netherlands |
| Special features/equipment | GH Grille, Tubul frontbumper, Canadian rear bumper tube. |
| Condition | Restored, new paint |
| Specific information | Found on Ebay France, 2003 |
| Registration # in Renault 4 Plein Air Register | 002 |
| Date of Registration in Renault 4 Plein Air Register | 24 July2010 |
| Owner | www.boerammetje.nl |
| Contact | boerammetje@planet.nl |
Sinpar Plein-Air no. 490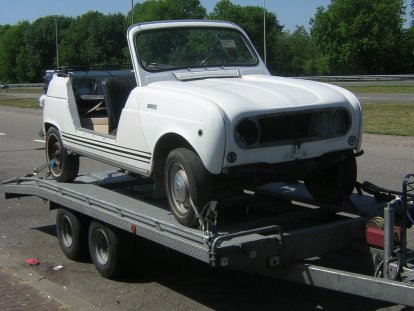 | | |
| --- | --- |
| Sinpar no. | 490 |
| Renault production no. | 735488 |
| Chassis no. | R1123 4531061 |
| Renault version no. | 240 |
| Date of first registration | 1970 |
| Country of first registration | Canada |
| Color | White 322 |
| Current registration number | Currently unregistered |
| Country of current registration | Netherlands |
| Special features/equipment | sealed beams, all red tail lights, but will be adapted to French specifications (100) |
| Condition | Being restored |
| Specific information | Presumably one of the 20 Terre des Hommes plein airs used unregistered at the Montreal World Exhibition site in 1968. This would explain the first registration in 1970. |
| Registration # in Renault 4 Plein Air Register | 003 |
| Date of Registration in Renault 4 Plein Air Register | 25 July 2010 |
| Owner | Remko Kort |
| Contact | rjkort |
Sinpar Plein-Air no. 509
| | |
| --- | --- |
| Sinpar no. | 509 |
| Renault production no. | - |
| Chassis no. | R1123 4541934 |
| Renault version no. | originally 240 (North America), currently 100 (France) |
| Date of first registration | 1970 |
| Country of first registration | Canada |
| Color | White 322 |
| Current registration number | Currently unregistered |
| Country of current registration | France |
| Special features/equipment | French specifications |
| Condition | Mint |
| Specific information | Presumably one of the 20 Terre des Hommes plein airs used unregistered at the Montreal World Exhibition site in 1968. |
| Registration # in Renault 4 Plein Air Register | 004 |
| Date of Registration in Renault 4 Plein Air Register | 18 August 2010 |
| Owner | confidential |
| Contact | |
Sinpar Plein-Air no. 182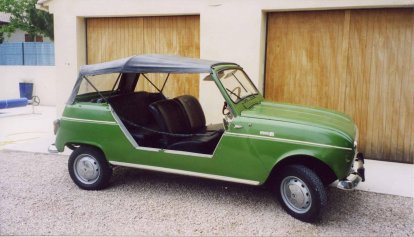 | | |
| --- | --- |
| Sinpar no. | 182 |
| Renault production no. | - |
| Chassis no. | R1123 4315267 |
| Renault version no. | 100 (France) |
| Date of first registration | 31 May 1968 |
| Country of first registration | France |
| Color | Currently green, originally white 322 |
| Current registration number | Currently unregistered |
| Country of current registration | France |
| Special features/equipment | French specifications |
| Condition | Unrestored |
| Specific information | - |
| Registration # in Renault 4 Plein Air Register | 005 |
| Date of Registration in Renault 4 Plein Air Register | 20 August 2010 |
| Owner | confidential |
| Contact | |
Sinpar Plein-Air no. 133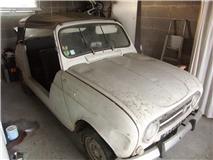 | | |
| --- | --- |
| Sinpar no. | 133 |
| Renault production no. | 577993 |
| Chassis no. | R1123 4315234 |
| Renault version no. | 100 (France) |
| Date of first registration | ? |
| Country of first registration | France |
| Color | White 322 |
| Current registration number | Currently unregistered |
| Country of current registration | France |
| Special features/equipment | French specifications |
| Condition | Unrestored |
| Specific information | - |
| Registration # in Renault 4 Plein Air Register | 006 |
| Date of Registration in Renault 4 Plein Air Register | 20 August 2010 |
| Owner | confidential |
| Contact | |
Sinpar Plein-Air no. 475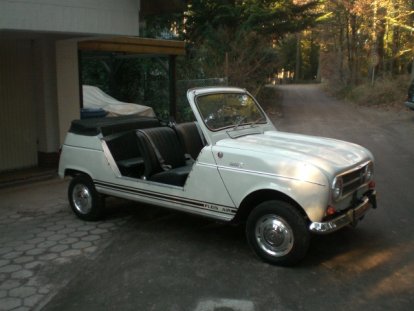 | | |
| --- | --- |
| Sinpar no. | 475 |
| Renault production no. | 731813 |
| Chassis no. | R1123 4530898 |
| Renault version no. | 120 (Germany) |
| Date of first registration | 2 April 1971 |
| Country of first registration | Germany |
| Color | White 322 |
| Current registration number | Currently unregistered |
| Country of current registration | Germany |
| Special features/equipment | German specifications |
| Condition | Unrestored |
| Specific information | 27,000 km |
| Registration # in Renault 4 Plein Air Register | 007 |
| Date of Registration in Renault 4 Plein Air Register | 22 August 2010 |
| Owner | confidential |
| Contact | rlflieger@yahoo.de |
Sinpar Plein-Air no. 461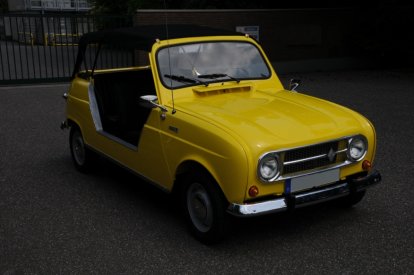 | | |
| --- | --- |
| Sinpar no. | 461 |
| Renault production no. | 729337 |
| Chassis no. | R1123 4530893 |
| Renault version no. | 120 (Germany) |
| Date of first registration | 30 August 1971 |
| Country of first registration | Germany |
| Color | Yellow |
| Current registration number | Currently unregistered |
| Country of current registration | Germany |
| Special features/equipment | German specifications |
| Condition | Completely restored |
| Specific information | 100,000 km |
| Registration # in Renault 4 Plein Air Register | 008 |
| Date of Registration in Renault 4 Plein Air Register | 26 August 2010 |
| Owner | Chris |
| Contact | 4711abc@gmx.de |
Sinpar Plein-Air no. 426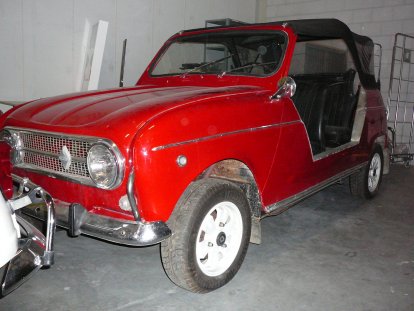 | | |
| --- | --- |
| Sinpar no. | 426 |
| Renault production no. | 690035 |
| Chassis no. | R1123 4489519 |
| Renault version no. | 240 (North America) |
| Date of first registration | 1971 |
| Country of first registration | Canada |
| Color | Originally White 322, currently red |
| Current registration number | AM-80-42 |
| Country of current registration | Netherlands |
| Special features/equipment | sealed beams, all red tail lights, heavy duty heating |
| Condition | Restored, new paint, new top |
| Specific information | Presumably one of the 20 Terre des Hommes plein airs used unregistered at the Montreal World Exhibition site in 1968. |
| Registration # in Renault 4 Plein Air Register | 009 |
| Date of Registration in Renault 4 Plein Air Register | 1 September 2010 |
| Owner | confidential |
| Contact | |